FOOTBALL: MILAN GALATICOS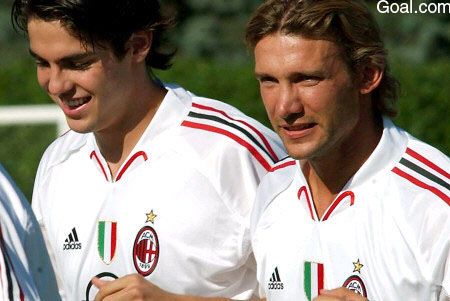 shevy 2 goals, kaka 1 goal n milan 3 reggina 1. glad dat kaka scored. still having tis dream 2 own his champions league jersey 4 tis season. 2 me, these 2 r e hottest properties of milan. they r like raul n zidane 4 real madrid. tis is e best equivalent i can think of! with them around, milan have proven dat they r consistent thru-out e season. possessing 2 of e planet's most greatest footballers which i think perez wun mind having in real madrid whenever they r up 4 grabs. but they r too influential there 2 move away, they r milan's icons now. n so is e same 4 raul n zidane.
since we have reviewed barca's team, let's look at e squad of milan 4 tis season.
GOALKEEPERS:
dida, abbiati, fiori
DEFENDERS:
maldini, nesta, cafu, kaladze, pancaro, stam, coloccini, costacurta, simic
MIDFIELDERS:
gattuso, pirlo, rui costa, seedorf, ambrosini, brocchi, dhorasoo
FORWARD:
shevchenko, kaka, inzaghi, tomasson, crespo, serginho
unlike barca, most of e players r veterans, some of them played 4 ages with milan like maldini. they have a much bigger squad n i alwiz wonder why players here nvr complain about not enuf starting eleven appearances like other clubs with alot of good players. a veli balanced team, definitely a team capable of challenging barca on all fronts. great defenders but abit old, great attackers but e midfielders of barca r stronger definitely. rite now, looking at e form of e teams, it is onli fair 2 say dat a champions league final between barca n milan will b e best!
e early morning matches saw liverpool losing 2 chelsea, man utd n newcastle being held, barca winning by 1 goal n real losing by 1 goal. it will b newcastle's 1st draw since souness took charge of e club while we saw alan smith caming in as a substitute n scored, showing rooney n van nistelrooy he is not out from e starting eleven competition yet. real lost 4 e 2nd time in 3 league matches, owen onli having 1 try at goal 4 his appearance- veli disappointing. i have no more explanation 4 real madrid anymore. roma n inter were having a stalemate in a 6 goals match. there will b no champions league matches tis week as everyone will b preparing 4 e world cup qualifying matches tis coming weekend.