FOOTBALL: MORIENTES FINALLY GOING TO LIVERPOOL
e long drama of who is going 2 get morientes has finally ended.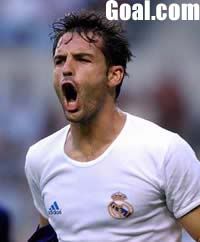 he is going 2 liverpool. if he passes his medical & everything is cleared, he can play as early as tis sat when liv entertains man utd at home. 2day we will c e league cup match between chelsea & man utd. i will definitely try 2 catch e liv vs. man utd match. hope it will b a thriller!
of coz i am unhappy with e sale. but wat can i wish 4? real is not giving any chances 2 morientes 2 play. thus, forcing him 2 ask 4 a transfer. understandable someone of his quality. somehow i feel happy 4 morientes 4 e move. it is sort of an injustice 2 him 2 b left on e bench like dat after all dat he contributed last season in e champions league. i thought e defeat of real madrid in e hands of monaco becoz of morientes' contribution will make them treasure him more.
alas, all of tis is just my dream. i wish morientes a happy time hunting goals in e epl & oscar, i am sure he will score far more than owen can in e la liga! haha!