FOOTBALL: WHAT'S UP, BELLAMY?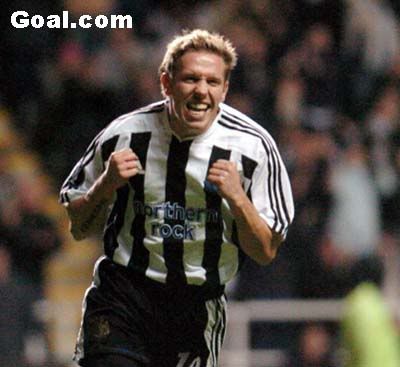 it has been a few days and the saga of bellamy is still rocking the epl. what on earth really happened? now, bellamy is on the exit of the toon army and looks like liverpool is interested in him. aston villa too. liverpool are desperate since florent sinama-pongolle is set for a lengthy spell on the sidelines after damaging his knee against watford last night. seems like his outburst for being played out of his position got him a 2 weeks fine. not going to apologize to souness because he said he had done nothing wrong. i guess bellamy had always been in trouble in the past for his bad temper, but this time it has gone too far. we as the public has no idea what really happened but can only guess through the reports in the papers. when patrick kluivert is coming to newcastle, i already have this doubt of the starting line up. shearer is the raul of newcastle, the untouchable captain. whoever put him on the bench will be sacked the next day. bellamy is a bad temper dude who never shy away from giving you a piece of him. so how? this is the outcome eventually.
oh well, newcastle are buying a lot of people lately. boumsong (unfortunately injured), babayaro and then amdy faye from portsmouth. the transfer of man city's sylvain distin didn't go through. of coz there are speculations of bernard to be sold. seems like newcastle are going to change the entire defence which has been very weak this season. no, I don't think the departure of jonathan woodgate was the main reason since well, he has not even make his debut for real madrid. whether the investment in defence by souness will bear fruit is still early to be predicted.
second to be as active in the transfer market this january is probably barcelona. maxi lopez and demetrio albertini are the 2 going there. i have no idea of their capabilities and abilities to contribute to barcelona but we shall see the rewards as the season progress. they still lead the galaticos by 7 points.
the galaticos is having a more settled and balanced formation now with a midfield diamond with gravesen at the back. it was said that this give more freedom for beckham, figo and zidane to attack in front. i don't know how effective this new formation will be. only time can tell, but if they can start winning matches, that will be great. the news of adriano linked with them is definitely an exciting one but the economic power of chelsea with mourinho's interest will make things complicated. yet, surely inter won't want a repeat of the ronaldo transfer. also the news of parma striker gilardino linked with the galaticos. i have no idea of his ability too.
interested to know the edu story. will he actually move out this january transfer period? seems like valencia is in no hurry to capture him. so is pandiani to have settled with almost the identical problem facing bellamy. interestingly, tristan played and scored. long time have I not heard from him.
right now the biggest match tomorrow is not your favourite champions league match, but a league cup match! hope it will be exciting!
MAN. UTD. VS. CHELSEA

go LAMPARD!!! by the way, congratulations to stephen gerrard for bringing Liverpool into the FA Cup final. it is the best chance for liverpool to win a trophy this season. of course, they have to go through against man utd or chelsea. any of the encounters won't be easy unless they are forced to play a weekened side for the sake of champions league or premier league challenge!