KEROPOK LEKOR
This is a local favourite cracker. Keropok means cracker in Malay. This cracker, known as Keropok Lekor is basically fish cracker. It is a famous product of Terengganu, the most extreme east coast state of Peninsular Malaysia in Malaysia. When I was in Kuantan, Pahang, the state south of Terengganu, I bought some fresh ones home. I am a big fan of keropok lekor and will never miss the chance to get the best from the country. You can tell the lousy quality of those you get around after you tasted the best. Well, anyway, the keropok lekor I bought in Kuantan was imported from Terengganu. Even the sauce was imported. You need a special chilli sauce to eat with it. The sauce has sesame seed mixed into it.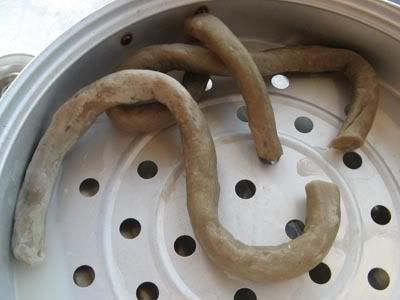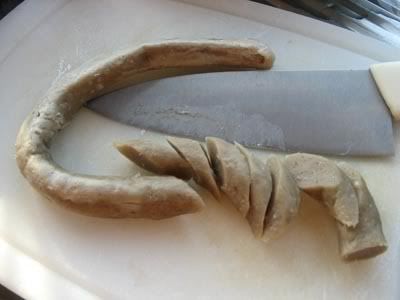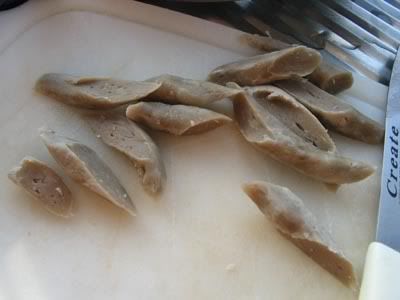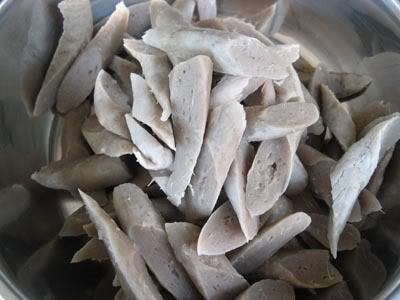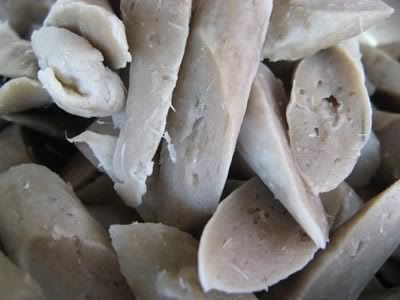 After I bought them in long sausages form, I stored them in the freezer up in the fridge. When you want to eat them, defrost them and steam them till they are softer. The most common way to eat them is to deep fry. After getting them out from intense steaming, you can cut them up into any kind of pieces you like. Then, heat up your oil and get ready to fry them. Some people like it not so crispy while others love them extra crispy. You just need to fry longer to increase the crispy intensity. I like all sorts of versions so normally I do the less crispy to very crispy versions altogether to give some varieties to the end product.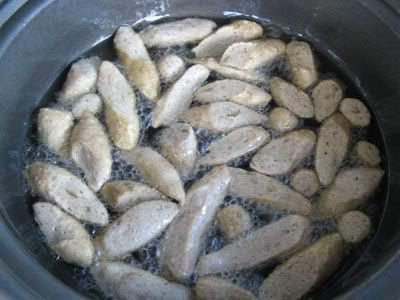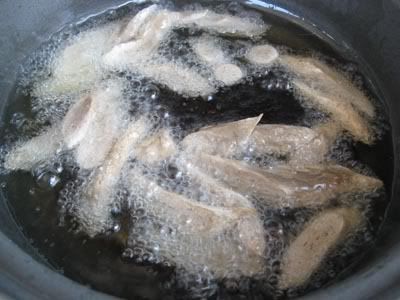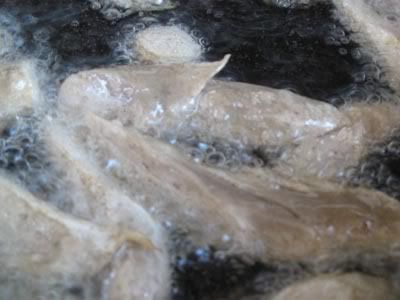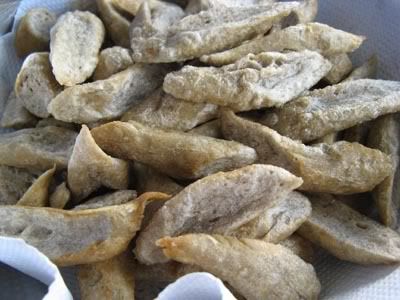 Keropok Lekor From Terengganu
Tourism Terengganu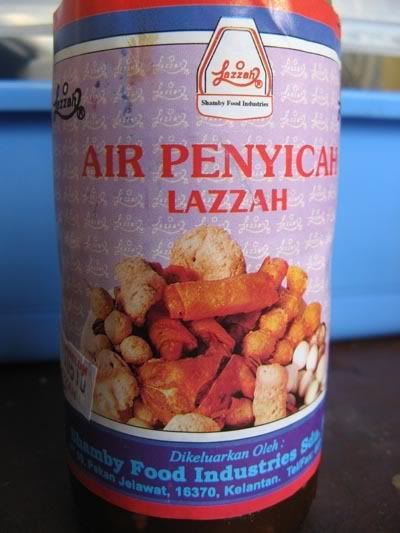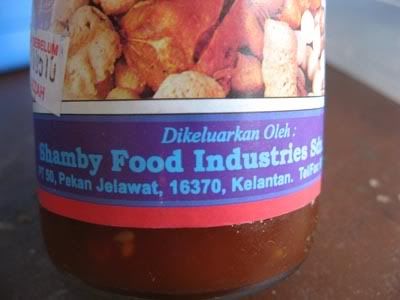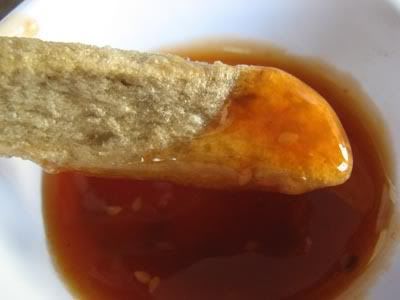 Ingredients:
1 kg fish (ikan parang or ikan kembong) *[IKAN means FISH in Malay]
500g sago flour
Salt to taste
125ml water
Some ice-cubes
1 or 2 pandan leaves
Method
:
Clean the fish thoroughly, remove its intestines and chop off its head and tail, leaving the body intact.
Make slits along both sides of the fish, then scrape off the meat; discard the bones. Pound, chop or mince the meat finely, adding salt to taste.
Add some ice cubes and continue mincing the fish meat. Add sago flour and water. Stir the mixture until it becomes a soft dough.
Dip your hand in the sago flour and roll the dough into a cylindrical shape.
Boil a potful of water. Add in one or two knotted pandan leaves. Drop the keropok lekor into the boiling water.
Wait for it to float and remove with a slotted spoon. Set aside to cool.
Cut the pieces diagonally into thin slices. Dry in the sun thoroughly, then deep-fry in hot oil.