SGD1 = RM2.40
The critical point had been reached. I saw the historic record! It had went past the critical SGD1=RM2.38 mark today. Let's see how far it will go.
All the world's economies are melting now. Everything seems bleak and this could be worse than the 1997 crisis. Although Bank of America had took over Merrill Lynch, The Lehman Brothers had announced bankruptcy. AIG is in a pretty shaky condition, Goldman Sachs and Morgan Stanley had shares sinking.
Malaysia has to deal with double jeopardy as the political scene is also going through uncertain times. I hope everything will be settled soon.
World crude oil price had reached the USD91 mark. Why is Malaysian's fuel price still the same? How much lower must it go to justify a new revision? USD85? USD80? US75? USD70?
I DEMAND RM2/LITRE MINIMUM!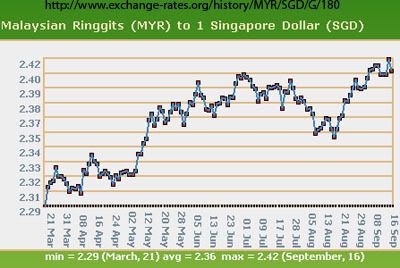 Historical exchange rates between the Malaysian Ringgit (MYR) and the Singapore Dollar (SGD)between 3/21/2008 and 9/17/2008 (
Exchange-Rates
)
History SGD VS. MYR (2 January 1990-17 Sept 2008)
2 January 1990 SGD1 = RM1.42249
2 January 1991 SGD1 = RM1.55348
2 January 1992 SGD1 = RM1.67921
4 January 1993 SGD1 = RM1.57627
3 January 1994 SGD1 = RM1.65561
4 January 1995 SGD1 = RM1.75365
2 January 1996 SGD1 = RM1.79508
2 January 1997 SGD1 = RM1.8045
1 August 1997 SGD1 = RM1.7894915 August 1997 SGD1 = RM1.83586
2 September 1997 SGD1 = RM1.93074
15 September 1997 SGD1 = RM1.97347
1 October 1997 SGD1 = RM2.19381
15 October 1997 SGD1 = RM2.03291
3 November 1997 SGD1 = RM2.09388
14 November 1997 SGD1 = RM2.09688
1 December 1997 SGD1 = RM2.22986
15 December 1997 SGD1 = RM2.3038

2 January 1998 SGD1 = RM2.34187
4 January 1999 SGD1 = RM2.2915
3 January 2000 SGD1 = RM2.29427
2 January 2001 SGD1 = RM2.18768
2 January 2002 SGD1 = RM2.05128
2 January 2003 SGD1 = RM2.1779
2 January 2004 SGD1 = RM2.23241
3 January 2005 SGD1 = RM2.31849
2 January 2006 SGD1 = RM2.27267
1 January 2007 SGD1 = RM2.29952
1 January 2008 SGD1 = RM2.30202
17 September 2008 SGD1 = RM2.42094
(
x-rates.com
)