PADDLE POP & THE MALAYSIAN FORMULA 1 TEAM
The biggest joke nowadays is what Wall's Paddle Pop ice-cream has in common with the Malaysian Formula 1 team? Of course the design of Malaysian Formula 1 race car. The country which lacks creative design from
local university professors who plagiarize
to
the origin of the national anthem melody
to
Made in Malaysia logo
similarity to Nike's to having the
Agro bank logo to be so similar to Airwalk's
to
all the arguments with Indonesia
that we expect the same from the race car body design. I am sure this car design will cause chaos, confusion and eye strains to rivals on the track.
F1 COST
Ferrari and McLaren estimated annual expenditures in 2006 of over US$400 million.
Toro Rosso (Minardi) was estimated to have spent US$75 million.
Toyota is estimated to be spending US$450 million a year but has yet to win a single race.
Honda, was also estimated to have spent US$380 million in 2006.
A £40 million budget cap incentive, however, has been offered to teams next year in exchange for greater technical freedom. The cap, however, does not cover driver salaries, engine costs, marketing and promotion.
Ferrari was estimated to have spent US$44 million in driver salaries in 2003 and US$175 million on engines. Minardi was estimated to have spent US$500,000 on salaries and US$15 million on engines during the same period. But that does not take into account start-up costs.
How much will it cost Malaysia to have this team?
Let's sing along now
Paddle Pop
Paddle Pop
Super Duper Yummy!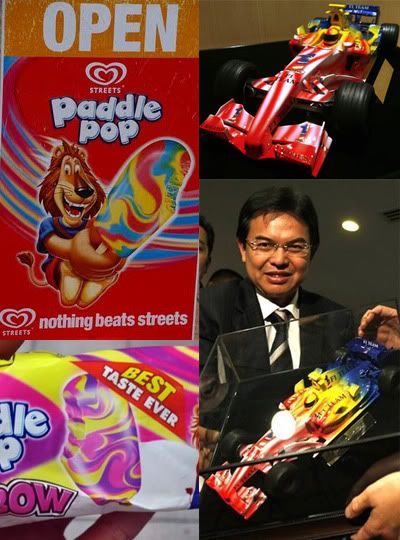 Photo credits:
Top left:
http://1.bp.blogspot.com/_Owga9A0xuIM/R1PbqDgTGKI/AAAAAAAACpQ/xlP0FSLtuD0/s400/qlion.jpg
Bottom left:
http://12.media.tumblr.com/3PatDBgqAi4vzgpiBK5gNUNAo1_400.png
Top right:
http://static.guim.co.uk/sys-images/Sport/Pix/pictures/2009/9/15/1253030188703/1MalaysiaF1Lotus-001.jpg
Bottom right:
http://media.sanluisobispo.com/smedia/2009/09/15/07/16Malaysia_F1.sff.mi_embedded.prod_affiliate.76.jpg
SIC: 1Malaysia F1 Team HQ Will Include Wind Tunnel
September 16, 2009 15:50 PM
KUALA LUMPUR, Sept 16 (Bernama) -- Sepang International Circuit (SIC), a joint partnership involving the government and a consortium of Malaysian entrepreneurs for the 1Malaysia Formula (F1) One Team project, has allocated between 8,000 and 12,000 hectres for the development of the Made-in-Malaysia F1 team headquarters.
SIC chief executive officer (CEO) Ahmad Razlan Ahmad Razali told Bernama the headquarters, to be located at the circuit, would be equipped with state-of-the-art facilities, including a wind-tunnel, to test the aerodynamics of the Malaysian-made machines.
He said the headquarters comprising an office, reseach & development (R&D), manufacturing, technical centre and other related departments would be fully functional, two years after the preliminary works expected to begin by the middle of next year.
"SIC have chosen a suitable site for the team headquarters which will be located at the parking area before the tunnel, to enter the podium building.
"But it's all in the preliminary stages. All the parties involved will have to sit together after the Hari Raya and submit whatever plans we have to the motorsports governing body, the Federation of International Automobile (FIA) for endorsement," he told Bernama here Wednesday.
Ahmad Razlan admitted, the cost to build the team headquarters at SIC would involve millions or may be, billions of ringgit, but could not reveal the actual cost because it was still in the preliminary phase.
SIC would only build the physical infrastructure but the hardware and software of the projects would be decided by other parties, he said.
Ahmad Razlan said cooperation between SIC and Air Asia began a few months ago when Asia's low-budget airlines boss Datuk Tony Fernandes told him about his ambitious dream to set up an all Malaysian F1 team.
For SIC, the idea will not only enhance the level of the company's involvement in the motorsports industry but also show Malaysia's direct involvelment with F1.
"This is a new chapter for SIC...as organiser of Malaysian F1 race to the niche Home of Motorsports and now, we can boast that we're the hub for motorsports in Asia," said Ahmad Rzalan.
Asked if the Malaysian-made machines would be on the grid before the Australian Grand Prix in March next year -- the first round of the 2010 F1 calendar -- he said the mean-machines would be in Malaysia before the race.
"I can assure all Malaysian that the 1Malaysia F1 Team machines will be in this country before the Australian race, most probably for testing at the 5.543km Sepang Circuit.
"We're not building the car from scratch. We already have the Lotus technology for the engines and within three month, the car is fit to be on the road. The Malaysian car has enough time to make a pinacle for the motorsports industry. That, I can assure them," he said.
He said the team's technical director Mike Gascoyne had over 20 years experience in F1, and previously performed the same role for the Force India, Toyota, Renault and Jordan Formula One Teams.
Meanwhile, National Sports Institute director-general Datuk Dr Ramlan Abd Aziz said the institute was willing to share its expertise with the budding F1 drivers.
He said former national F1 driver Alex Yoong used to undergo physical training under the institute's supervision as F1 drivers needed to be physically and mentally ready.
"If necessary, we will set up a team comprising experts to help in the training.
"However, before we provide any assistance, we must get the green light from the youth and sports ministry," added Dr Ramlan.
-- BERNAMA
September 17, 2009 19:45 PM
F1 Team Investment 100 Times Better, Says Dr Mahathir
PUTRAJAYA, Sept 17 Bernama) -- The value of advertisement benefits derived from the country's F1 team is 100 times more than the cost of investment for the team, former prime minister Tun Dr Mahathir Mohamad said Thursday.
He said it was not a waste of money to invest in the country's F1 team as the advantages, including tourism and technological advancement, had always outweighed the disadvantages.
Even when the country was experiencing economic recession and negative growth, Tun Dr Mahathir said, there were industries that could flourish such as tourism.
"We viewed Formula One as an important instrument to promote Malaysia to the world," he said in an interview with Bernama.
He said Malaysia would have to pay US$1 million just for a three-minute advertisement in Japan.
On Tuesday, Prime Minister Datuk Seri Najib Tun Razak announced that the 1Malaysia F1 team would participate in Formula One race starting next year.
Najib had said that the project was a joint government and private sector initiative with the government investment through Proton, the national car manufacturer.
According to news reports, it is estimated that at least RM1 billion a year is needed to keep the FI team.
"With the F1 race, Malaysia is shown to the world for hours. We don't have to pay a single sen. If we were to calculate the advertisement in Japan alone, it may run into US$100 million or US$200 million.
"So imagine... more than 300 television stations telecast the F1 race. People will know more about Malaysia if we have our own F1 team," Tun Dr Mahathir said.
He said investing in an F1 team was not merely about motor racing as technology developed for the motor racing engine could be applied for the country's automotive industry.
Najib had stated that the 1Malaysia F1 Team car would be designed and made by Malaysians in Malaysia.
Tun Dr Mahathir said that owning a team would also encourage the country to produce its own drivers to take part in the world-class race.
Malaysia has been involved in Formula One since 1999 through the Sepang circuit which has been on the race calendar since then.
Petronas, the national oil and gas giant, has made further advancements in this arena via its sponsorship of the BMW Sauber team for the last four years.
Tun Dr Mahathir, who is also the Petronas advisor, said it was cheaper for Malaysia to set up its own team than taking over the Sauber team after BMW withdrew from sponsoring the team.
"If we (Malaysia) can invest billions of ringgit for corridors which we can't see, why can't we invest for our own F1 team?" he said.
The national F1 team will integrate a Malaysian technical and pit crew totaling some 200 people.
Six local and international drivers have been shortlisted for evaluation and the team will announce its two drivers by the end of next month.
-- BERNAMA