FAREWELL "THE MAILMAN"!
(stats taken from
http://www.nba.com
)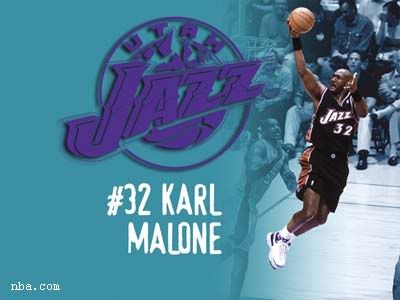 Karl Malone had retired from the NBA officially last Sunday on 13th Feb 2005. I thought a tribute post to him is something which is a must for he is one of the NBA's 50 All-Time Greatest players with 19 seasons under his belt. He had played against among the greatest in the history, with probably Michael Jordan being his truly last nemesis. To me, he is always a very reliable all rounder player who can be depended on to deliver the goods, even against the toughest opponents. Hence, the gifted name of a mailman. He will never fail to deliver.
"I would like to announce my retirement and make it official," said Malone, flanked by his wife Kay, Jazz owner Larry Miller and coach Jerry Sloan.
"I made this decision from the heart. It was not something I made overnight. This was something that took me awhile, back and forth, emotional."
Malone, the league's prototype power forward and sure-shot Hall of Famer, leaves as the NBA's second-all-time leading scorer, accumulating 36,928 points, just 1,459 behind Kareem Abdul-Jabbar's record 38,387. Malone, 41, spent 18 years with the Jazz, averaging 25.4 points and 10.1 rebounds. He joined the Los Angeles Lakers in 2003-04 and spent one season (42 games) with them.
He was twice voted the league's Most Valuable Player and selected 14 times for the All-Star team. Doubting he could bring 100 per cent physical and mental to the court, Malone said, "I didn't want to be that athlete that stayed one year too long. "
The 6-9 forward out of Louisiana Tech was selected by the Jazz with the 13th overall pick of the 1985 Draft. Malone retires as the Jazz's all-time leader in points (36,377); minutes played (53,479); field goals made (13,335) and attempted (25,810); free throws made (9,622) and attempted (12,965); and rebounds (14,601). He scored a career high 61 points (21-26 FG, 19-19 FT) vs. Milwaukee on 1/27/90.
In addition to his professional achievements, Malone was also a member of gold medal-winning U.S. Olympic teams in 1992 and 1996. He also won the 1997-98 IBM Award, designed to honor the player who contributes the most to his team's overall success. He is one of eight players to win All-Star Game MVP honors at least twice, claiming the award in 1989 and 1993 (co-MVP with John Stockton).
"For 18 years, Karl, along with John Stockton, was the centerpiece of the Utah Jazz," said Jazz Head Coach Jerry Sloan. "I can only add to the accolades already expressed here today. Karl has one of the best work ethics I have experienced in coaching. He put his heart and soul into every game."
Career Transactions:
Selected after junior season by the Utah Jazz in the first round (13th pick overall) of the 1985 NBA Draft....Signed by the Jazz on 8/8/85....Re-signed by the Jazz on 11/7/88....Re-signed by the Jazz on 9/25/90....Re-signed by the Jazz on 1/13/96....Re-signed by the Jazz on 8/1/99…Signed by the Los Angeles Lakers on 7/16/03.