FOOTBALL: REAL MADRID FORMATIONS
I tried the
Wacom Bamboo
bought by a friend to draw out two Real Madrid formations using
Corel Painter
. I tried different mediums for both formations. It was not bad and I felt that it felt very natural. You just need to get used with the interface first as we are so used with the mouse. The objective is to be able to write down your own handwriting digitally with the digital pen.
I can't wait for the demo of the
Wacom Cintiq
by another friend as I heard many cool stuffs regarding it. Here are the results of the two outputs I made. I wanted the coach strategy board feel to the formation. Hehe! It was quite nice as the pressure and strokes are very well documented and executed.
FORMATION 1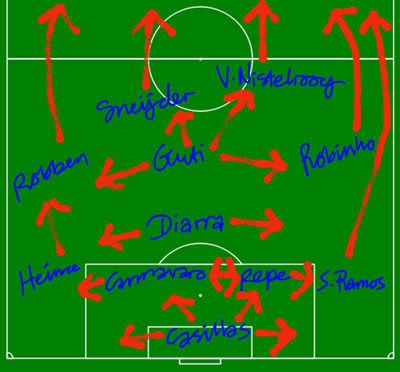 (4-1-3-1-1)
----------Van Nistelrooy-----------
--------------Sneijder--------------
-Robben ------ Guti ------ Robinho-
---------------Diarra----------------
Heinze - Cannavaro - Pepe - S.Ramos
---------------Casillas---------------
FORMATION 2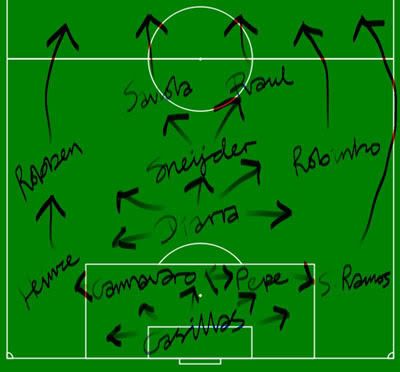 (4-1-3-2)
----------Saviola --- Raul-----------
-Robben ----- Sneijder ----- Robinho-
---------------Diarra----------------
Heinze - Cannavaro - Pepe - S.Ramos
---------------Casillas---------------
Bench:
Heinze (Drenthe, Marcelo)
Diarra (Gago)
Saviola (Higuian)
Cannavaro (Metzelder, Garay)
Robben (J.Baptista)
S.Ramos (Salgado)
Pepe (Torres)
Casillas (Dudek)