FOOTBALL: SINGAPORE VS. BRAZIL
Thanks to Kenny Sia, I won two passes to watch Chelsea F.C. in training at the Shah Alam Stadium on Monday, 28th July 2008 at 6:30pm. However, at the same time, I have a tough decision to make. The Singapore VS. Brazil match is confirmed to be played on the 28th July 2008 at 8pm. Thanks to my friend, Wykeith, for purchasing it for me. Now, there is no looking back. Between watching Ballack, Shevchenko, Terry and Lampard VS. Ronaldinho, Robinho and Pato, who will you watch? Well, for me, I rather go watch (past great) Ronaldinho, (present great) Robinho and (future great) Pato because I get to see a glimpse of the past, the present and the future! Hehe! I wish Kaka will be here too. That will be even perfect!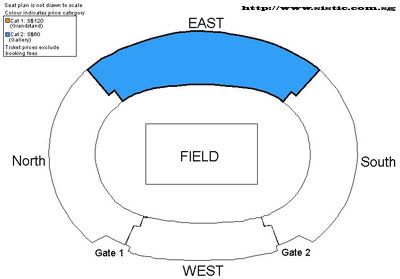 The S$120 seats are at the West side of the stadium. I managed to grab the East side, which is good enough. All the other sides, North, South, East, cost S$60. I heard the difference is due to lousier seats as well as having covered roofing. Who cares about seats and rain in football matches?!!!! There is no sun at 8pm too so I guess it is not worth paying double for something that is not significant, unless you are given seats in the luxurious Owner/Directors' Box serving champagne and expensive chocolate.
The Singapore National Stadium can sit 55,000 people. This is probably the last time the stadium is hosting a match and it will be my first time ever entering the stadium. It will be demolished soon to be replaced by a multi-purpose Singapore Sports Hub.

Another reason is of course to compare between world rankings. I rather watch the Singapore football team now that the Malaysia football team is probably ranked the lowest in the whole country's history. I expect a bad thrashing.

FIFA/Coca-Cola World Ranking
Last updated 2 July 08

1st Spain 1557 points
2nd Italy 1404 points
3rd Germany 1364 points
4th Brazil 1344 points
5th Netherlands 1299 points
6th Argentina 1298 points
7th Croatia 1282 points
8th Czech Republic 1146 points
9th Portugal 1104 points
10th France 1053 points
11th Russia 1023 points
12th Romania 1021 points
13th Cameroon 1011 points
14th Turkey 1010 points
15th England 1003 points
16th Scotland 988 points
17th Bulgaria 930 points
18th Greece 911 points
19th Mexico 906 points
20th Ghana 885 points

127th Singapore 231 points

166th Malaysia 96 points