SUBWAY SANDWICHES
This site requires some update! Man, I am too busy with competition submission and really have no time to touch my website. Now, I have more time. People, I will be flying back to Sibu hopefully on the 3rd week or latest 4th week of June 2005. I may not drop by Kuching because there is direct Johor Bahru-Sibu flight operated by AirAsia now. I will bring my hard disk back this time, if I do transit in Kuching, maybe I can offload many goodies to you Kuching folks! So rejoice!!!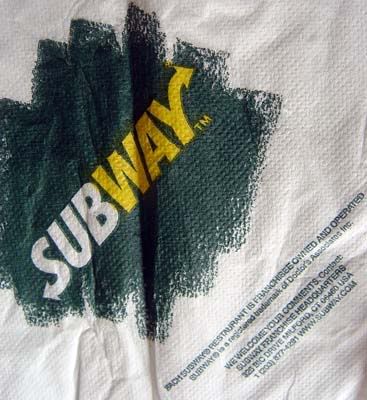 Anyway, let's talk about Subway. They are the American sandwich brand. It is basically American Delifrance to me. Make yourself damn full with loads and loads of bread! Haha!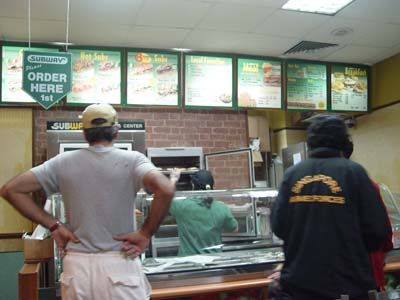 There are so many combos you can choose as ingredient. You can also choose from the different bread type. The matchmaking is hard since I have no experience with what is good with what so I asked the person to combo for me. I will eat whatever combo she comes up with. Hehe!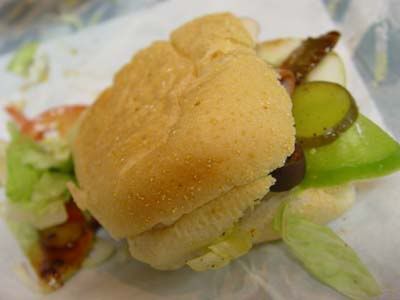 As a cheese lover, I will be most happy if there is alot of cheese in my sandwich. The rest is not important! It tastes great, so is the loaf of bread too. It was matchmade for me so it must be well done! It is 6 inches long but you can top up for a whopping 12 inches! Suddenly my mind has all the dirty thoughts! Hehe! I did increase my bread length. Kiasumah!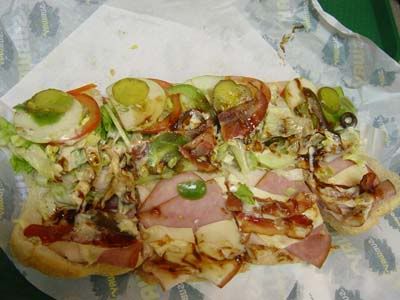 The set meal comes with two cookies too. It looks very crunchy and hard but proved me totally wrong when you bite it. It is surprisingly nice and soft! Makes Chipsmore amd Chips Ahoy look amateurish!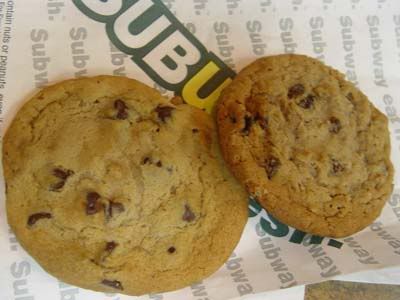 The only bad thing is that it is damn expensive. A simple meal like this costs me over S$10 easily. Damn!