FOOTBALL: SINGAPORE SELECTION 0-3 BRAZIL OLYMPICS TEAM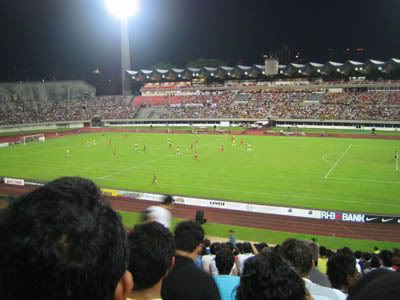 Yes, the dream to see Ronaldinho live is fulfilled. The rest is not important. It was a normal friendly so I was not expecting a very exciting match. Still, it was not bad as Ronaldinho played for the entire match.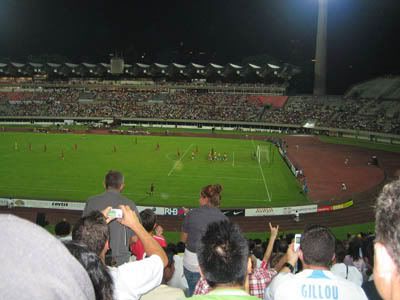 I also get to see the future star, Pato in action in the first half. Tall and slim, you thought it was Peter Crouch in disguise. Diego was also great to watch. Unfortunately, Robinho did not make it for the match. It was my first experience in the Singapore National Stadium and could be my last as they would demolish it soon. I also experienced the Kallang Wave which was wonderful.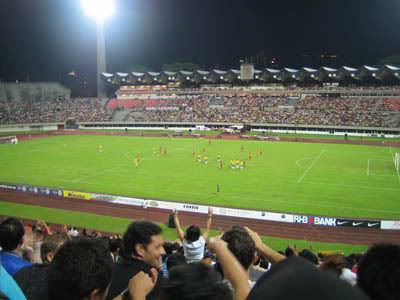 I first thought this will be the Singapore national team but it was a selection of some of the best Singapore League players. The first goal was scored by Diego and Ronaldinho scored the second goal by literally bringing the ball into the net through some balancing act with his feet. The humiliation frustrated the goalie. The last goal was scored by Jo, unknown to me but heard to be signed by Manchester City. Overall, the Singapore Selection were only able to play much better after Diego and Pato were substituted in the second half. They wasted some good chances and should have scored at least once. I was happy Dunga let Ronaldinho play the full match. Marcelo was also given a chance to play deep in the second half.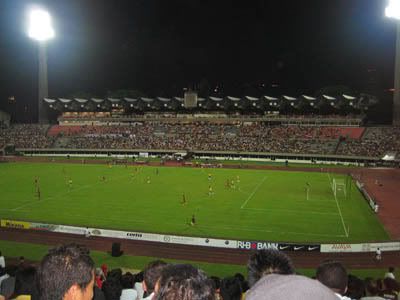 I went with my friends as we sit at the east side of the stadium. It was surely a nice experience for me to be at the stadium as well as finally meeting Chris up especially after some time.
Other News:
Robbie Keane signed for Liverpool and I thought it was interesting to have him but at such a price, it was abit ridiculous. Henry may go to Manchester United, which is abit shocking but again could be just rumours anyway to spice up the footballing news. There are of course some rumours about Cesc Fabregas. I wonder he will stay forever in Arsenal as he claimed if he keeps on winning nothing for every season or at least always fall short of winning a very crucial trophy like the Champions League. We will never know. Perhaps Arsenal will win something this season. Samuel Eto'o may stay in Barcelona after all with new signings Martin Caceres, Gerard Pique, Daniel Alves, Aleksandr Hleb and Seydou Keita. It could be an interesting season for them.