KLSE COMPOSITE INDEX FELL BELOW 1,000 LEVEL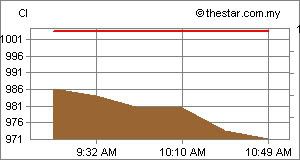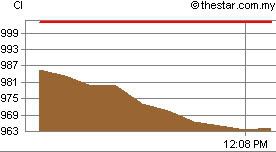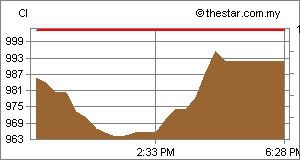 Thursday ,September 18 2008 9:32 am983.82 (-19.17 or -1.91%)
Volume 359,622 lots
Gainers 41
Losers 256
Unchanged 71
Thursday ,September 18 2008 10:36am973.35 (-29.64 or -2.96%)
Volume 1,060,082 lots
Gainers 47
Losers 458
Unchanged 100
Thursday ,September 18 2008 11:15am 966.66 (-36.33 or -3.63%)
Volume 1,349,159 lots
Gainers 10
Losers 309
Unchanged 33
By Joseph Chin
South Korea's Kospi down 34.53 points or 2.42% to 1,390.73
Japan's Nikkei 225 skidded 2.81% to 11,420.02
Singapore's Straits Times Index slipped 3.21% to 2,341.6.
The Dow Jones Industrial Average shed 449.44 points, or 4.1%, to end at 10,609.58.
At Bursa Malaysia, HwangDBS Vickers Research said the KLCI which hit an intra-day low of 1,000.41 on Wednesday before closing at 1,002.99 faced more downside risk ahead, possibly testing and breaking below the support line of 990 next.