西洋菜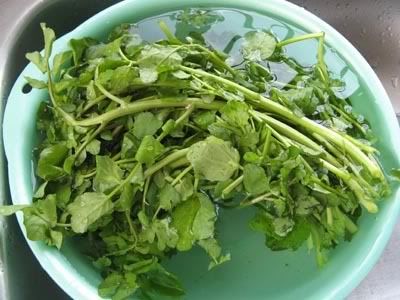 Or commonly known as watercress. It is also called Cruciferae; Xi Yang Cai; Selada-Ayer, (M); sai-yong-choi, (C); Sai-Yong choi, (C); Sai-Eng-Chai, (H).
Nasturtium officinale R. Br. (Cruciferae)
(Rorippa nasturtium-aquaticum (L.) Hayek)
Check more in depth information at the
Guide Books A Guide to Common Vegetables
.
When I moved to this part of Malaysia (West) and Singapore, it is common to find the usage of watercress for cooking, especially for soup. It is not commonly found in Sibu, Sarawak.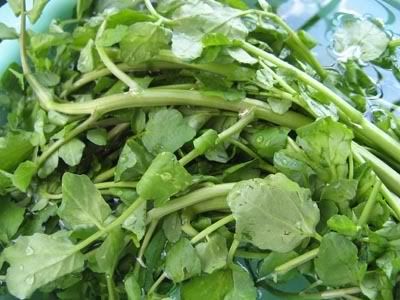 I tried it once and had since love it. I still have the 'Watercress Craze' and it is among the most favourite Chinese soups. Other soup types I enjoy include winter melon, white carrot, old or bitter or white or hairy or towel gourd (OK, I guess I can declare that I enjoy any kind of gourd soup), white carrot and lotus root.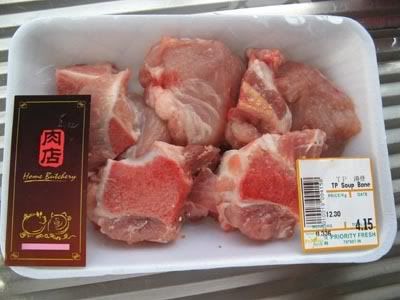 You can use pork to cook the soup. You will never go wrong with pork. It is one of the best ingredients around to be used for soup cooking. Apart from that, you can use the chicken throat and feet as well but I prefer pork.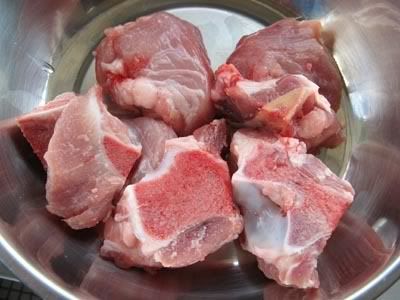 I like to use the bone parts as I enjoy chewing bones. I know some people like to use the 3-layered pork part too. Whatever you use, it is good practice to always rinse the meat through boiling water to clean it up.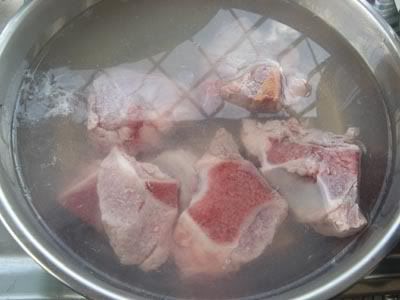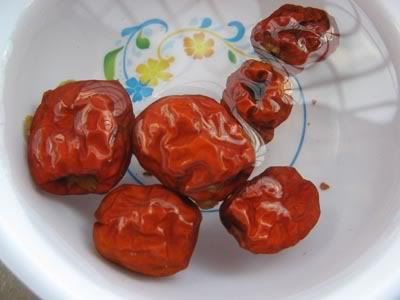 You can add red dates that are pitted to give the soup slight sweetness too.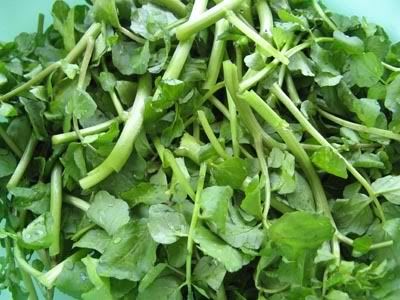 Of course the best way to cook this is to insert everything into a claypot and insert that into a bigger pot filled with water for boiling. This will maintain the goodness of everything intact as well as maintain the freshness of the vegetable. If you cook it like I do here directly under fire boiling, try open the cover after a period of time to avoid heating the vegetable too much. The greeness colour will fade fast if you overcook it directly under the fire.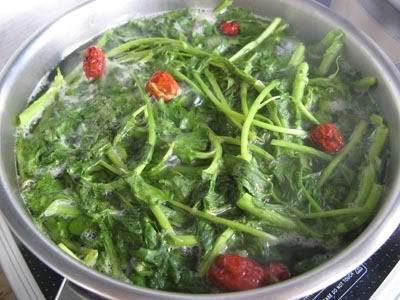 People in the west like to use this for salads but of course I think the species is slightly different. Ours is too dirty and require you to soak it well before cooking. Sometimes there are slugs around too with soil and you have to spend some time cleaning it well. Therefore, when you purchase this vegetable, have a quick check at the bottom so you will prevent spending too much time cleaning later. Apart from commonly used for cooking soup, you can stir fry it as well.
What are the health benefits of this vegetable? Many claimed it can help reduce the risk of getting cancer. Others say it is a source of iron, calcium, folic acid and Vitamin A and C. The Chinese however eat it to cool the body down.