RISE AND FALL, RAGE AND GRACETHE OFFSPRING

Listen to the songs here.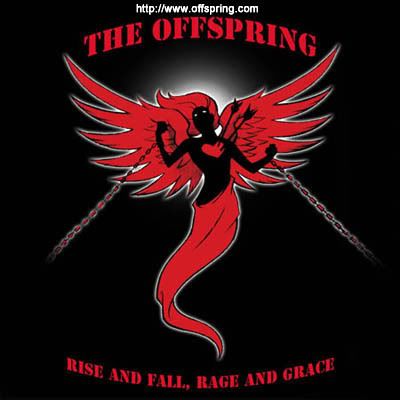 Alright, their album had been released since 16 June 2008. I am absolutely late on reporting this but I had known about it for a long time. I guess I totally forgot about checking it out after that. I have been hearing
The Offspring
since the Smash album in 1994. Later, Ixnay On The Hombre (1997), Americana (1998) and Conspiracy of One (2000) were the other albums I followed faithfully. I still remember I bought Americana extremely early, way before I hear any of the songs in the radio back then. It was the afternoon after I finished the school extra curriculum activities. Pretty Fly (for a White Guy) caught my attention then for its uniqueness after I played it right after I reached home from school. The rest was history then when it was played so frequently after that it must be their most successful song ever.
I have to admit punk rock is really a very rare species nowadays, it is almost extinct like heavymetal. The only other influential punk rock band is
Sex Pistols
. I was brought up to enjoy these two genres but I really can't find anyone to be capable of replacing Metallica and The Offspring. The way the band was formed is in the most bizarre circumstances and I would say very weird combinations. Check out the history at Wikipedia, The Fountain of Knowledge.
The Offspring History

The Offspring always have very creative way of presenting their albums as well as getting all those playful introductions, intermissions and endings into their albums. I am not sure whether they still do that nowadays. Therefore, you are always in for a pleasant surprise. You will find yourself purposely wait until the very end after the last song of the album to find some funny / vulgar stuffs.
Some of the best songs they ever done were Come Out and Play (Keep 'em Separated), Self Esteem, All I want, Pretty Fly (For A White Guy), Why Don't You Get A Job?, The Kids Aren't Alrught and Original Prankster.
How is my opinion of the new album? Well, to hear Dexter Holland's voice after so long is surely nice. I never get bored with the music and voice of The Offspring and I love to hear the album regardless if all the songs suck by public opinion. I just miss such music so much. I am glad they are back. I am not at all disappointed by the music and voice! Keep on rocking baby!
Dexter Holland, by the way, is probably one of the coolest humans ever alive today. Holland was the class valedictorian at Pacifica High School in Garden Grove, California and was a Ph.D. candidate in Molecular Biology in University of Southern California but abandoned it to focus on his singing career. He has a Bachelor's degree in Biology and a Master's degree in Molecular Biology from USC too. He is also a licensed Airline Transport Pilot, making a solo trip around the world in 10 days.
One of my ultimate dreams is to attend The Offspring and Metallica concerts at least once in my life. Will they ever come to this part of the world or will I ever get such opportunities in the future?
YOUTUBE The OffspringTV's Channel