BBQ CHICKEN
KOREA'S NO.1 CHICKEN RESTAURANT
What do you do if you want to be healthy and still want to enjoy fast food? Healthy fast food? No way man, they are totally the Yin and Yang of the extreme opposite. Healthy food and fast food are just not meant for each other.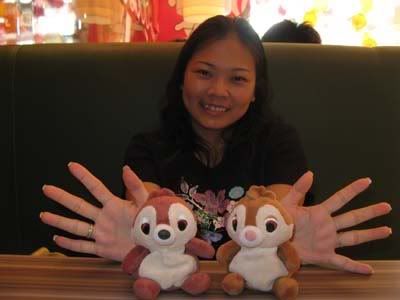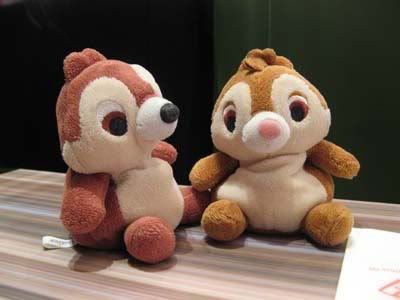 Well, you can have a marriage of healthy fast food by going to BBQ Chicken restaurant. They claim they are the first in the world to 100% use olive oil. It is not just any ordinary olive oil but extra virgin olive oil, probably the most expensive cooking oil in the world. I use the oil for cooking too. From experience, I can tell you that you need a lot of oil to be able to cook stuffs because it is just not oily enough and hence, you will end up having things stuck on your wok. Therefore, to fry things with extra virgin olive oil, I am sure they need a huge amount! They opened their first branch in Johor Bahru and we decided to go to check it out. They have the 50% discount for the Mon-Fri 2-6pm promotions till 31st August 2008 at the
Tesco Extra
Plentong.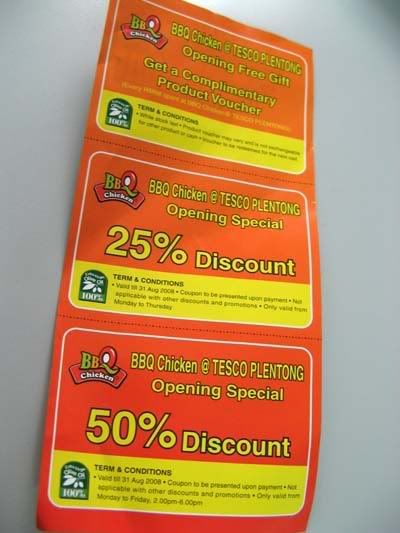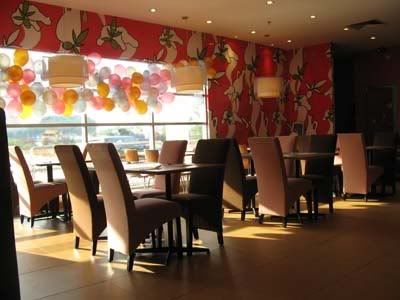 The shop was rather empty. When we went in, there was only us and another table. I guess it takes time to get people to know about this restaurant so they should really promote the restaurant more. I am not sure whether their extra virgin olive oil as the main attraction for business will really bring in the crowd in the third world country like Malaysia. In Malaysia, people don't really care about the healthy issues that much. What they care about is cheap and good taste. That's it!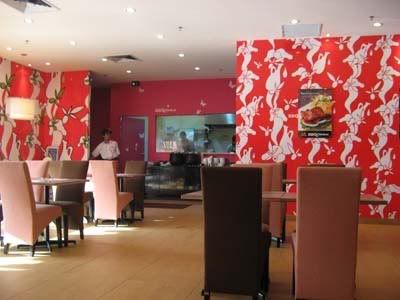 We ordered the fried original chicken (RM13.40), jerk BBQ chicken(RM14.50), Teri-Q wings (RM11.50), a ChocoNata dessert (RM7.20) and a glass of Pepsi (RM3.50).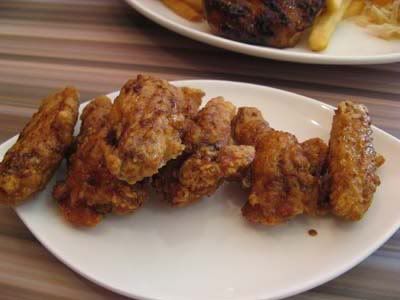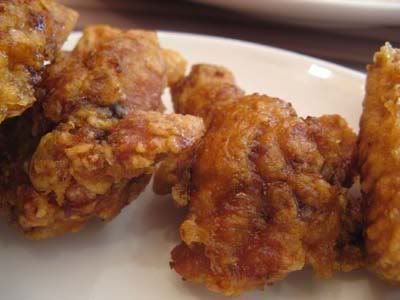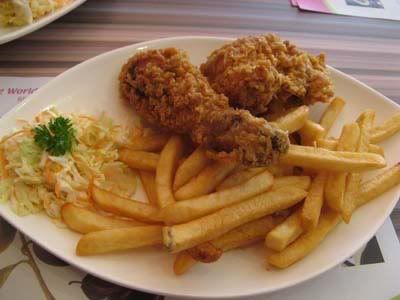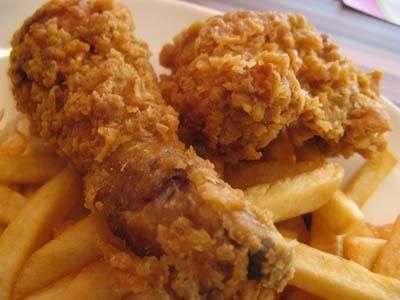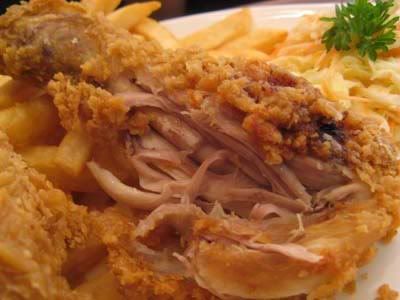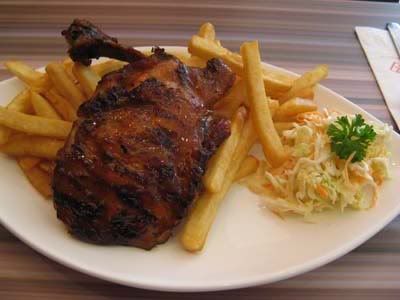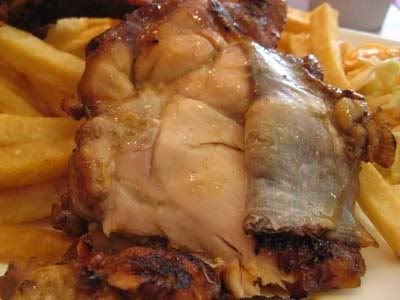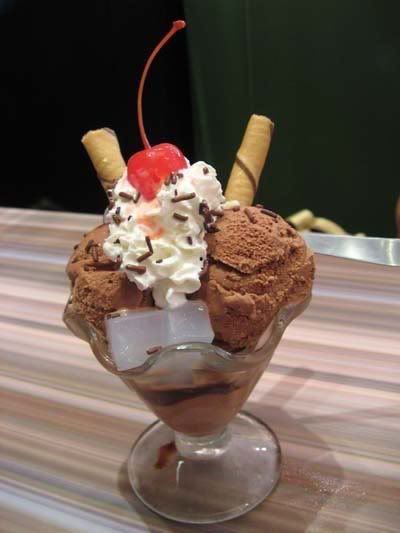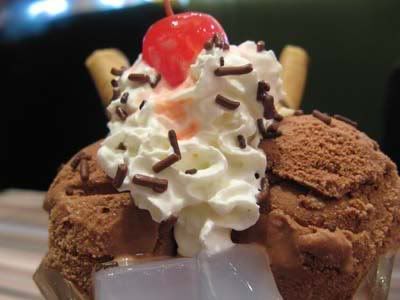 Total: RM50.10
Discount: RM25.05
Service Charge: RM2.51
GST 5%: RM1.25TOTAL DAMAGE: RM28.81
(8.78692 USD / 5.67997 EUR /
4.49291 GBP /
12.1122 SGD
)
My opinion of the food? It was generally nice and the oil really give it a more natural flavour. When you eat the fried chicken's extremely crunchy and crispy skin, you can tell they don't add any preservatives. The Korean BBQ sauce on the grilled chicken is great. The Teriyaki sauce chicken wings are well done too. The dessert is acceptable to me as well. Therefore, I guess the extra virgin olive oil really give a nice smell to the food and did give a unique taste to the fast food. It doesn't mean it is the best I ever tasted and it is not the worst. However, health conscious people who loves fast food now have a choice. Oh, they gave too much french fries to the meal. I saw repeated past customers not able to finish the amount of fries and so are we. I guess they need the huge amount of fries to cover the plate. Hehe!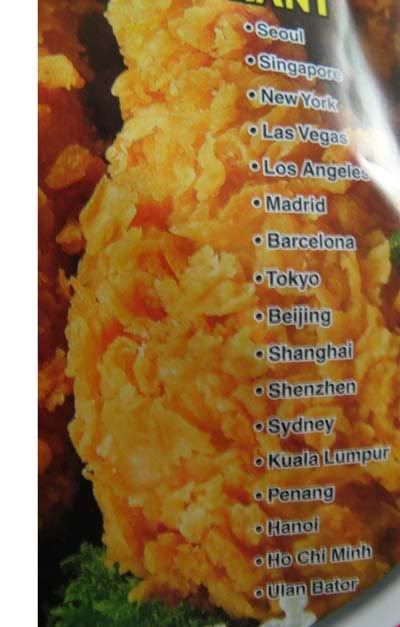 There are branches available throughout the world:
Seoul
Singapore
New York
Las Vegas
Los Angeles
Madrid
Barcelona
Tokyo
Beijing
Shanghai
Shenzhen
Sydney
Kuala Lumpur
Penang
Hanoi
Ho Chi Minh
Ulan Bator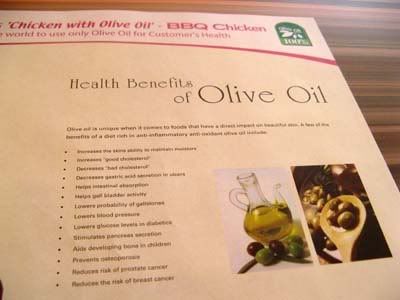 Olive oil is unique when it comes to foods that have a direct impact on beautiful skin. A few of the benefits of a diet rich in anti-inflammatory anti-oxidant olive oil include:-increase the skins ability to maintain moisture-increases "good cholesterol"-decrease "bad cholesterol"-decreases gastric acid secretion in ulcers-helps intestinal absorption-helps gail bladder activity-lowers probability of gallstones-lowers glucose levels in diabetics-stimulates pancreas secretion-aids developing bone in children-prevents osteoporosis-reduces risk of prostate cancer-reduces the risk of breast cancer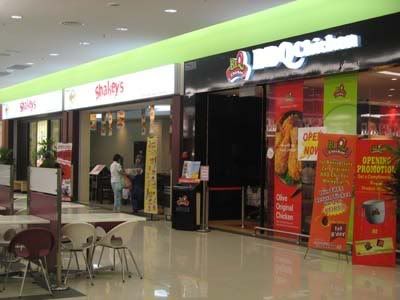 Well, the location of the shop is also not very nice. It is situated between Shakey's Pizza and KFC, their direct main competitor for fried chicken. I thought it was a big mistake in the very first place. Finally, your guess is as good as mine, why in the world do they call themselves BBQ Chicken when the main attraction seems to be the fried chicken? I wonder too.
BBQ Chicken