THINGS I NEED TO BRING BACK FOR CHINESE NEW YEAR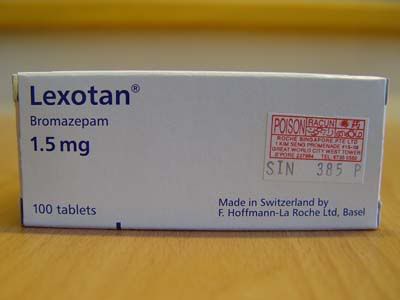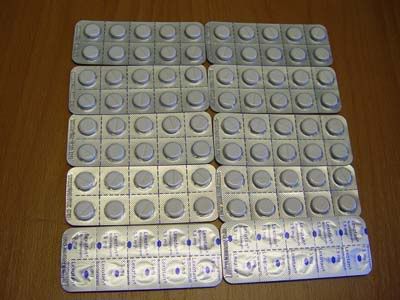 One of the things I need to bring back for Chinese New Year is the surprising Lexotan Bromazepam tablets! I have no idea what it is but with a 'Zepam' at the back, I know these tablets are related to reducing tension and anxiety. Thus, it is anxiolytic. According to a pharmacy friend years ago, it is a powerful psychotropic agent.
Sixthseal.com
should have a far more extensive information on this drug compare to me. There are like 100 tablets here and I am sure a friend will be happy if I give him the whole box! Haha! Then again, I heard bromazepam is not that powerful anyway compared to any of the related 'Zepam' family so probably he will give it a pass.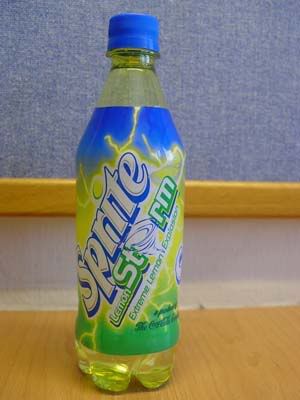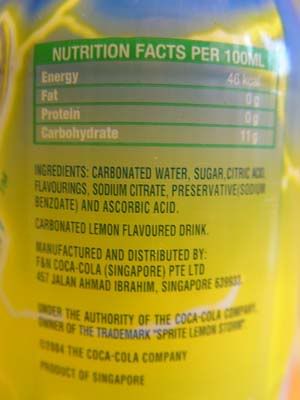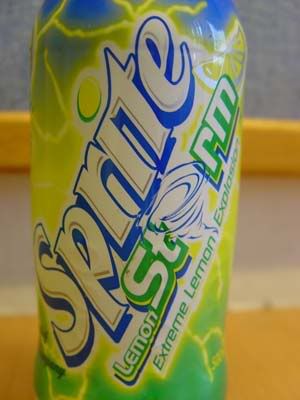 Next on the list is a bottle of Sprite Lemon Storm. Singapore is always crazy about creating funny new drinks and this adds up as another new entry to the market. I have tried it once during their promotional campaign in Orchard Road about a week ago. The lemon taste is very strong and you will be fooled like me as well to think that the liquid is yellow since the bottle colour is in yellow. Hehe! It is abit too strong to be qualified as a thirst quencher. It is better not be drank when you finish some sporting activities and are eager for a nice cold drink after a tiring game. This is probably your typical Chinese New Year house visit drink or probably something you order in a kopitiam for a meal. Hehe! The drink is still in white like your normal Sprite. Now, this is a contrast to Pepsi Fire and Ice. In a lemon flavoured drink, you expect them to colour it yellow, but they don't. While Pepsi literally colour their drinks red and blue to simulate fire and ice. Still, an interesting flavour of lemon worth drinking. Try it out if you have a chance!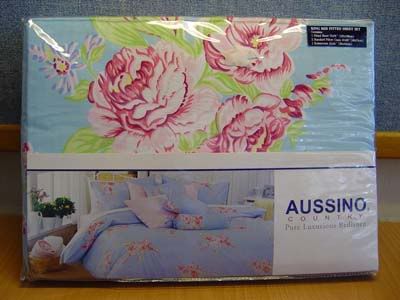 Aussino bedlinen, another thing I need to bring back for grandma. It is a king bed fitted sheet set with standard 2 pillow cases, 1 fitted sheet and 1 bolstercase. I know Sibu has a boutique at the top of Wisma Sanyan. I have no idea how good quality their products are. So, no comments on this one.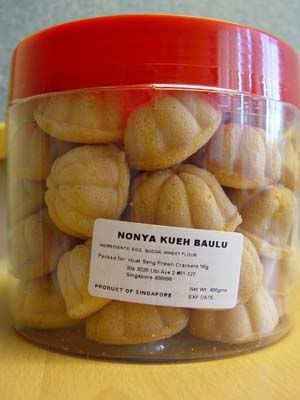 Then, of course thanks to my room mate for the nonya kueh baulu he is giving me. He said his mom recommended it. I was looking through the local cake shop called
Bengawan Solo
for a few days already for their famous cheese cookie. I tried it when my room mate brought some of their sample cookies a few days back. FYI, Bengawan Solo was founded in 1979 by Tjendri Anastasia, originally from Indonesia.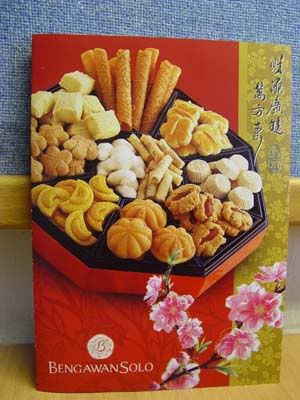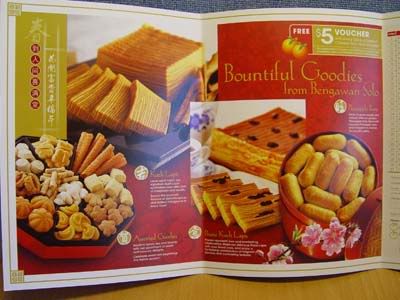 Well, not really their famous stuff but I guess I love it much. The only problem is that it is out of stock. I checked from Clementi to Orchard Road and failed to find any. I asked my friend to check throughout his neighbourhood in the east and somehow it seems that the whole island is out of stock. If I can't get any before I go home, I guess this nonya kueh baulu will be the only food I bring back from Singapore for Chinese New Year. I heard their kueh lapis and pineapple tarts are famous, but I guess kueh lapis and pineapple tarts are not things so special that we in Sibu have never tasted.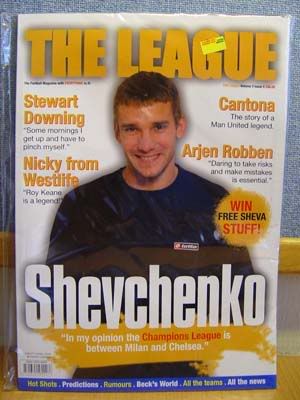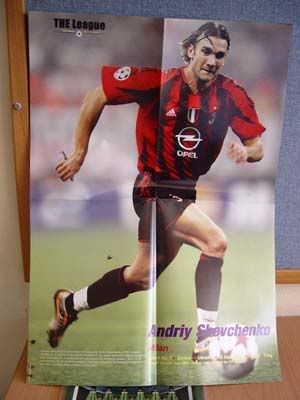 Finally, the League magazine. I was too busy to even browse through it but it is a locally made football magazine I think. They have the Shevchenko poster attached with this issue. I guess Ah Hung will be thrilled with this issue. If he is interested, probably I will bring back and give him! Shevy was injured during the defeat of Milan to Bologna last night. I hope the extend of his injury is not a serious one, if not, Milan will have a hard time catching Juventus now and Inter are chasing furiously from the back!