FOOTBALL: LUIS FIGO'S LOVE LIFE
Helen Svedin (or Swedin) is a Swedish model who is married to Luis Figo and she has had 3 children by him. Unfortunately, I cannot find any biodata of her. Still, some stories on how she met Figo.
She is one reason why Figo would like to live in London. She continues to work following the birth of their two daughters; professionally, London would suit her well. It is also a reason now that English clubs are trying to lure him away from Real Madrid because he is not getting a starting eleven place.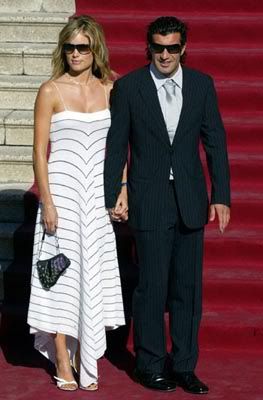 They met, in 1995, at a Joaqu¿n Cort¿s concert in Barcelona, where they exchanged phone numbers. It was she who made the first call. They fell in love, had a child, got married at a luxury resort in the Algarve, then had another child. Fast man!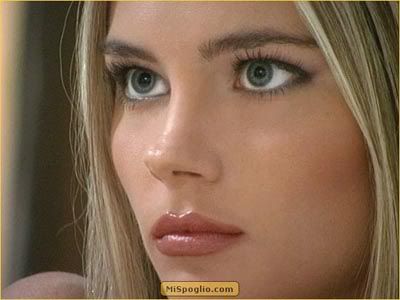 'Initially,' he says, 'we spoke in English. Now - she has learnt well - we speak in Spanish.' Figo, as befits a man with such a wife, is a stylish dresser; he owns the Guess jeans concession in Portugal. But since becoming parents the couple have been wary of publicity. 'I have a fantastic wife,' he says, 'and not only in terms of external beauty. Her priority and mine is our children. That is our choice. My wife does work, but not as much as she used to. Before, she would be away for two or three weeks. Now, she turns away work.'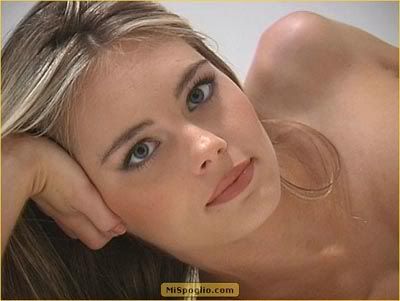 What makes her fantastic? Is it because she is understanding about the relentlessly intrusive nature of the footballer's life? 'That is very important. She understands my profession and the time I have to be away from her and the children. I am very happy to have met and married her and I give thanks for every moment she is with me.'
She is the babe! After becoming a mother, she is still so pretty! Her eyes are so beautiful and seductive. Sorry I can't show much body photos here since she loves to go nude. Enter SibuGuys and you can find them there!