FOOTBALL:
SPAIN'S NICE FLOW FOOTBALL WINS!

Germany 0-1 Spain

Viva Espana!



Well, the match we all are waiting eagerly for! The lineup for both were slightly different with Germany having Frings and Spain having Fabregas in their respective starting lineups. Spain started a bit nervous as Germany was given an early first chance. Klose was given a great opportunity in the 4th minute when Sergio Ramos' poor pass was stolen with ease but he took too long to try a shot. Just a minute later, Lahm ran down from the left yet again but sent a cross too wide. By the 7th minute, Ballack sent a cross from the left yet again but went slightly wide. Germany looked more solid with more possessions. Klose tried on the 8th minute with a shot from the left yet again but directly to Casillas. The right side of the Spanish wing was fully overloaded with German attacks.
Spain finally got their first decent chance from by the 14th minute. Xavi was the mastermind, sending a dangerous ball to Iniesta who tried a cross which hit Mertesacker and deflected towards Lehmann for a forced save for a corner. Torres was again a letdown, sending a cross to no where. To be fair to him, there was much pressure on him as he was alone in front. Xavi tried a freekick but easily stopped. Torres was again given a ball in a break but yet again was very much disappointing, losing it. By the 23rd minute, Torres hit the left post from a cross. Capdevila later shot the ball well wide on the right. A corner by Germany landed on Ballack whose volley hit Ramos.
Fernando Torres scored in the 33th minute from a great assist from Xavi. He was running between two defenders before going extreme right, outran Lahm while Lehmann ran out. He chipped the ball in for a goal.
Iniesta was given a chance for a run on the left but his cross to Silva was wasted for a really bad volley. Ballack went down for treatment for blood near his right eye. He went out one more time when the blood appeared again some time later. In the 42nd minute, Ballack was involved in a tussle with Fabregas. Puyol and Marchena were objecting and Casillas just came out from the penalty box to complain too. The referee gave both Ballack and Casillas yellow cards.
Iniesta again was given a chance with a good pass from Xavi. He took too much time to decide how to best play the ball and ended up forcing just a corner. Spain wasted that corner yet again. Finally, the half ended. Overall, Spain was a bit shaky at the start of the half but soon settled down for the match. They were more convincing overall as they managed to cut off many of Germany's passes. Sergio Ramos had been excellent so far, managed to control most of the offensive attack from the left coming his way. Schweinsteiger to me was the most dangerous player for Germany for the first half as he had some decent runs to the penalty box.
When the second half started, I was surprised Lahm was substituted for Jansen. Well, Lahmn to me is much more better than him and I didn't agree substituting him just for that fault. You couldn't entirely blame him! The play went normally until Klose was down as Marchena's boot hit his sensitive area. Hehehe! Very painful indeed! By the 54th minute, Torres ran down the right, sent a shot to Xavi who hit it to the left of the goal. Lehmann managed to ge a finger on it for a corner. Silva got a chance from the corner but fired it slightly out on the left. By the 56th minute, a dejavu like the first goal with an assist from Xavi to Torres with a defender running alongside him. This time however, Lehmann ran out in time to grab it.
Kuranyi came in by the 58th minute to replace Hitzelsperger. I did agree with this change as Hitzelsperger had been playing unconvincingly so far. Sergio Ramos ran up from the right and sent in a cross which nobody was able to meet. In the 60th minute, Puyol was running too much out left and that gave them a cross in. Schweinsteiger put the ball to Ballack for a shot which went out on the left. Dangerous mistake from Puyol! Kuranyi's substitution was starting to create a lot of problem to Spain. He was involved in the offence more and almost got a header in when Casillas managed to stop it. Spain finally made the first change in the 63rd minute by bringing in Xabi Alonso over Fabregas. Silva was involved with an incident with Podolski with Silva headbutted him 'midly' to get away from the close contact when Podolski first purposely put his head close to Silva's to have some serious talks as well as provoking him. It could have been a red card for Silva in that heat of the moment. Aragones quickly substituted him for Cazorla in the 66th minute.
Xavi in the 67th minute sent in a freekick which Sergio Ramos got to but Lehmann managed to push it out over the goal. A corner was played with Iniesta shooting from the left and again was blocked off by Frings. It was rather quiet from then on until the 76th minute when Torres was given a ball running down fast with just Metzelder. He tried to put the ball past him for a fast run but it was too strong and Lehmann managed to get it. Another attack continued with Alonso crossing a ball to Torres to the right but his shot attempt was blocked by Mertesacker twice. Daniel Guiza came in on the 78th minute to replace Torres. Germany brought in Mario Gomez for Klose.
Spain was complaining in the 80th minute when Lehmann handed the ball from Guiza outside the penalty box. Soon later, a convincing run deep to the German half by Senna as he passed a ball to Cazorla set off a very dangerous offensive attack. That was probably the first time he was involved in an attack. Cazorla sent in a great cross from Xavi from the right in the 81st minute to Daniel Guiza who headed the ball for Senna to score. He slided too late as he was sightly too late to meet the potential assist. From there onwards, it was all about chasing to find the equalizer for Germany. Lehmann nearly gave Spain a free goal when he passed a ball directly to Cazorla but missed the ball with the net wide open!
Well, Spain tried their best to keep the ball and they finally won it when the whistle was blown after 3 minutes of added time. Spain finally shook off their underachievers tag by winning the EURO2008 title. This will definitely be sweet after their last major title in 1964! Spain deserves the win for their overall better performance. Their nice flow football and patience to keep the passes ongoing won them the match. The whole squad were very disciplined and consistent to keep the play firmly to their style. The only player who was playing bad to me was Puyol. He is to me their weakest link and always not very reliable in defence. Germany were very weak in the midfield while Ballack's temper to me was the main reason for causing themselves problems.
The man of the match is given to Fernando Torres. As Podolski did not add any more goals, David Villa is officially the golden boot winner with 4 goals. Casillas, the captain, of course to me is the best player in defence for the whole tournament and not to forget Senna for again another solid performance. Xavi for all the dangerous passes and surely some of the most crucial assists to bring them so far as well as winning the EURO2008. Spain got a 100% perfect record wins in the whole tournament (except the sudden death penalty shootout against Italy). Congratulations to Xavi for winning the Most Valuable Player(MVP) title! He deserves it!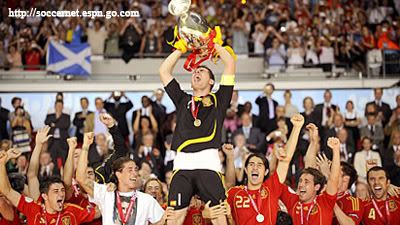 CONGRATULATIONS SPAIN!