FOOTBALL: OWEN IS NOW A TOON ARMY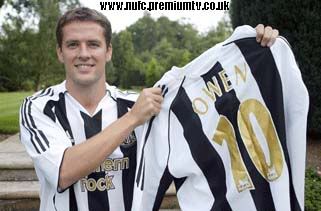 "It was announced like a Queen's birthday," a friend of mine, who is a Chelsea fan said.
I can't agree with him far more. Finally, the long awaited transfer is done. How will the Liverpool fans take this piece of news? It is like Barcelona selling Ronaldo to Inter and coming back to play for Real Madrid. Liverpool selling to Real Madrid to be sold back to Newcastle United. However, this transfer is made only a season later.
With the legend-to-be Robinho going to Real Madrid, Owen needs to go elsewhere to get regular playing time to be prepared for next year's World Cup. How much is he convinced to be there to play with no Champions League football action at all is still puzzling me. Liverpool seem to be much a perfect place to be for him and with speculations of Cisse's move away from them. Liverpool did grab two youngsters. Austrian Idrizaj, a 17-year-old winger, joins on a two-year deal from Linzer ASK and Wales Under-21 striker Calliste signed for a 12-month contract. Well, at least he is confirmed the starting 11 place in Newcastle United. They are so desparate to score a goal and hopefully Owen will supply them with plenty.
I personally think that Owen is a very efficient striker. The stats are proving it. Although I don't really like the type of striker like him who depends too much on speed than skills. He is also abit too short to be a natural striker. Still, his goalscoring stats are to be respected. It will be interesting to see him team up with Shearer. It brings back the memories of the past. The past and the present meeting for the final time. I never thought it was possible. Moving to Liverpool seems to be far more attractive than going to a hopeless club like Newcastle United now.
Back in Madrid, there are definitely many who misses Owen but you only get the comments from anybody else but the forwards. Hehe! Well, everybody wants to start. As for Robinho, even the legend Zidane is praising him!
"He is strong," said the France international. "He is even phenomenal."
"What he is achieving as a 21-year-old is impressive."
"When a team has players like him, it is not a problem to be too attacking."
"With Robinho, it will be better and better, and not for our adversaries, it will be worse and worse."
Now, hopefully both clubs will achieve something better than next season now that the transfer of Owen is done. The transfer window is also closing by today!
Finally, how can I ever forget?
"HAPPY 48TH BIRTHDAY, MALAYSIA!"