WAR OF THE WARS
(*Warning: Spoilers!*)
I went to watch the preview screening at Orchard Cineleisure with my friend yesterday night at 7pm in the Cathay Cineplex.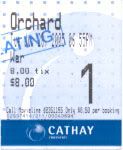 As expected, my instincts prove me right! This movie is totally dedicated to showing off the computer graphics and special effects. It has no storyline and it is totally science fiction. The movie is just to show off Steven Spielberg's ability with his Dreamworks SKG company to do all those movies that are highly computer generated.
The whole plot is about running away from these creatures/aliens. Ray Ferrier or Tom Cruise has to escape from his home in New Jersey and goes all the way to Boston with his two kids to reach his ex-wife. Dakota Fanning is good and she is basically the lead actress in the show!
It is also about how Tom Cruise tries to be a good father to his kids who have bad impression of him compared to their new father that their mom remarried. He has to prove his love and affection to his kids who lost faith in him by having them safely reaching Boston.
You get to see the aliens and their spaceships zapping human beings with their pulse lasers or plasma lasers (whatever you call those laser beams). Some are eaten alive and you have tonnes of red 'spiderwebs' all over the place. This is a good movie for those who enjoy those futuristic special effects and who loves aliens. I personally don't like it and find it really bad as expected.
I saw the trailer of King Kong. I guess it is a remake of the classic. Then, suddenly I saw Jurassic Park in King Kong with King Kong fighting the dinosaurs over the beautiful lady. I think it will suck big time too! Haha! Coming this December!
Guys, I will officially start my tour tomorrow heading Malacca to meet Liza Cheng. I will go Ipoh, Penang, Kota Bahru, Kuala Terrenganu, Kuantan and maybe Bangkok too from Penang because it is so cheap! That means I will not have much updates for the following few weeks! You guys take care!